Blessings For China From Global Health Qigong People
Since the outbreak of novel coronavirus in China, IHQF Member Organizations around the world have sent blessings actively through a variety of ways.
The 1,272 sets of first class medical protective clothing, 380 sets of ordinary protective clothing, 100 goggles and gloves donated by Canada Ji Hong International Health Qigong College have been collected and will be transported to Wuhan Sports University to support the school's epidemic prevention and control work.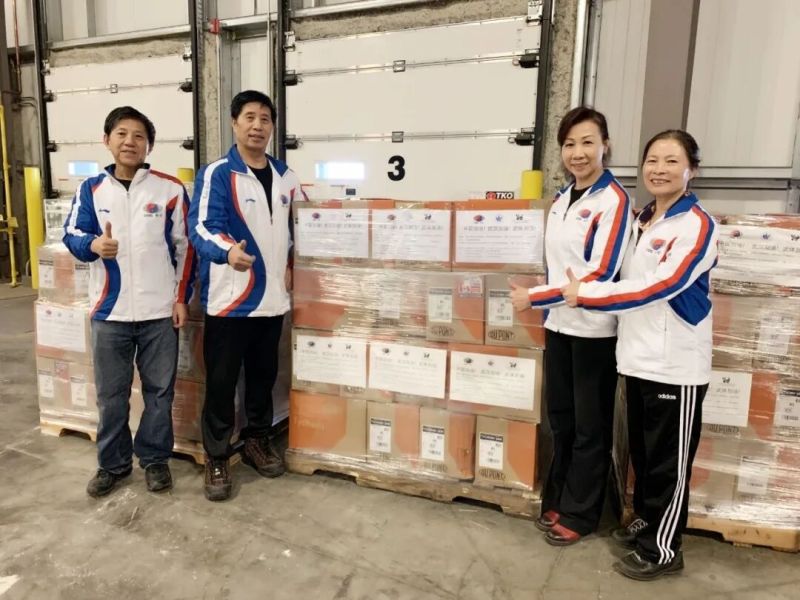 The Association Long Shan of Reunion, Africa, performed Baduanjin before the screening at the cinema to raise funds to buy masks and other medical supplies to be sent to China.
Malaysia Health Qigong Association, Cuban Wushu and Health Qigong Association, Les Temps Du Corps, and Health Qigong groups in Japan and Indonesia have all recorded cheering up videos for China!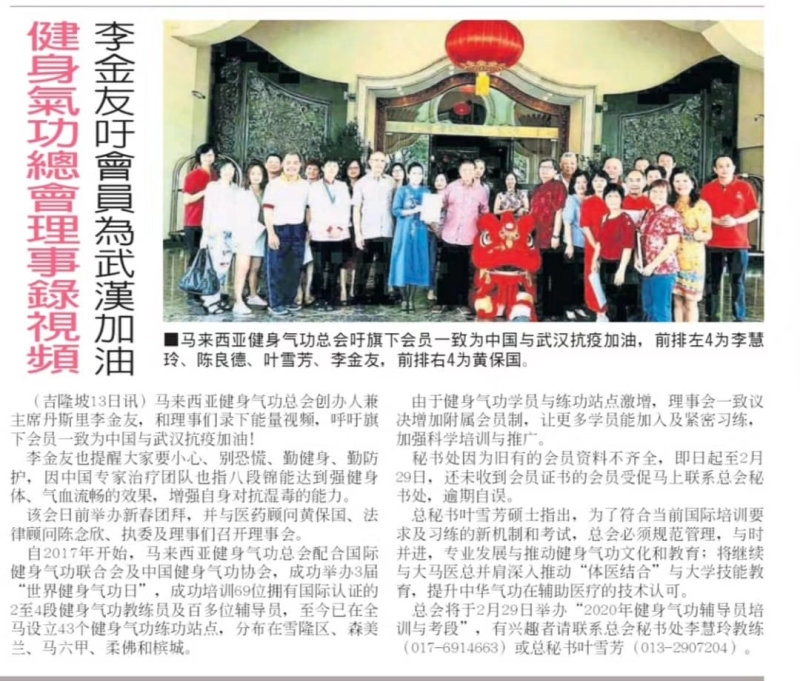 In the WeChat group of "International Health Qigong Home" composed of the principals of most Member Organizations, there were different languages and words beating every day, but the common meaning is "Come on Wuhan!Be strong China!"
Amanda of South African Health Qigong Association wrote: through the practice of Health Qigong, the health and well-being of the nation has been improved. At present, China is affected by the epidemic, but we firmly believe that the Chinese people will overcome the difficulties.
Marian of Argentine Health Qigong Association said that through Health Qigong, the Chinese people spread health, wisdom and courage to the world and benefited many people.The Chinese people will surely get over this difficulty and share more with the world.
"I trust this situation will end very soon, because China has always been a country that has grown in the face of difficulties," wrote Núria of Instituto Qigong Barcelona. "In difficult times it is when we can really recognize our value and strength and recognize the people and entities that are at our side. I never forget that in the difficult beginnings of our Institute, CHQA and IHQF were always on our side and always helped us."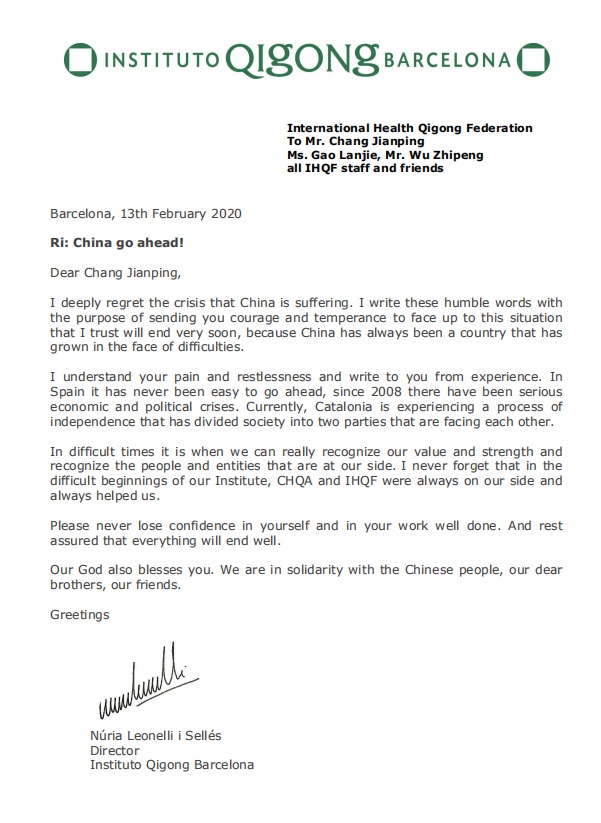 Blessings from Greece, UK, Belgium, Italy, Bolivia, Singapore, Mongolia, Brazil, Australia, Iceland, Sri Lanka, Uruguay, USA...they were sent out from all over the collections into a warm current inside the Health Qigong people.