Basic Information
Name of the Organization: Tai Chi Australia
City and Country: Melbourne, Australia
Approved by: Australia Securities and Investments Commission
Year of Establishment: 1992
Year of Joining IHQF: 2012
Leader: Han Jin Song
Email Address: info@taichiaustralia.com.au
Postal Address: P O Box 59, Glen Iris, Victoria 3146, Australia
Phone Number: +61 415993399
Business: Health Qigong, Tai Chi, Wushu
Students: 300 registered students, 200 temporary Students
Website: taichiaustralia.com.au
Introduction
1. History
Tai Chi Australia (TCA) commenced in 1992 and is the largest and strongest Tai Chi and Health Qigong organization in Melbourne, Regional Victoria and Tasmania with twenty instructors and trainees conducting Tai Chi and Qigong classes in various venues for over 500 students each week.
In addition, our services to the corporate sector include a diverse range of organizations including banks, hospitals, city councils, major businesses, government organisations, Senior Citizen Clubs, ethnic communities, schools and universities where our programs are very well received.
The success of Tai Chi Australia and Health Qigong is due to our commitment to provide the most professional training possible, making every effort to assist students to achieve their individual goals, whether they are related to improved health, relaxation or physical fitness.
We ensure that the experience of students is as enjoyable and productive as possible, and create opportunities for all who are interested in broadening their knowledge, experience and training in Health Qigong through special workshops, seminars and study tours to China.
We offer programs that are in accordance with the best international practice and traditions of Health Qigong, ensuring our school is up to date with the latest international developments in the practice and teaching of Health Qigong and making every effort to meet the individual needs and preferences of all students on all occasions.
2. Introduction of Leader
The founder of Tai Chi Australia, Master Han Jin Song, commenced practicing Wushu (Chinese Martial Arts) over 40 years ago at his local province sports school in China. He trained there for nearly ten years before entering the Beijing Institute of Physical Education, now the Beijing Sport University, where he majored in Wushu and Tai Chi, graduating with a Bachelor degree. Because of his outstanding performance in both academic and technical areas, Master Han was offered a teaching position at the Wushu Department of Beijing Sport University, and was mainly responsible for teaching foreign students from all over the world and at the same time coaching Wushu students at the China Olympic School. He is a highly accredited international Wushu/Tai Chi judge.
After settling in Melbourne, Australia he obtained his Master's Degree of Applied Science majoring in Sports Psychology, and has been a skills coach and technical adviser for many Tai Chi Schools all over Australia. He commenced his Tai Chi Australia school in 1992.
Master Han Jin Song is an Inaugural Member of the International Health Qigong Federation (IHQF), having been appointed at its 1st Congress in 2012. He has attended nearly all IHQF Executive meetings in that time and is widely respected by all in the Health Qigong family.
Master Han holds 8th Duan in Wushu and 6th Duan in Health Qigong. In summary, Master Han Jin Song brings skills, expertise and experience to the area of Health Qigong.
3. Introduction of Members
TCA has an experienced team of instructors in Melbourne, Regional Victoria and Tasmania. All instructors have an acclaimed reputation envied by schools in Australia and overseas. They are highly qualified, having been professionally trained and accredited by leading Professors from the Beijing Sport University (BSU), and the Chinese Health Qigong Association (CHQA).
Our instructors are committed to improving their knowledge and skills, and their training is ongoing in China and Australia. Regular instructor training is conducted by Master Han Jin Song to hone individual performances and to share information. There are also many opportunities throughout the year both in China and Australia to train with Professors and Masters from the IHQF, CHQA and Beijing Sport University.
A number of instructors have been achieved Duan 3 and are looking forward to improving this ranking in the future.
4. Daily teaching and learning activities
Tai Chi Australia runs dozens of Health Qigong classes throughout Victoria and Tasmania for students of all skill levels from beginners to more experienced practitioners, featuring a variety of forms.
Our Instructors provide Health Qigong classes for many different groups within Australia, ranging from large corporations and Government departments to schools and senior citizens groups. We design special courses to suit the client's requirements, timeframes and location.
Instructors participate in training courses and seminars which are organised on a regular basis to maintain and improve their teaching skills and knowledge.
5. Health Qigong related activities Organised or Participated In
Since 2008, TCA has organised and run many seminars and workshops in Health Qigong in conjunction with the CHQA and the IHQF. Workshops have been held in Melbourne, regional Victoria, ACT, SA, NSW, Queensland and Tasmania. Our Instructors also participated in the 1st Oceania Instructor training course organised by TCA and conducted by IHQF, and held at its Melbourne headquarters in 2016.
2016 workshop
2013 workshop
New Year Celebration, Melbourne in 2013
Instructors have attended IHQF meetings, seminars and training workshops in China, Europe and US/Canada and have also participated in competitions.
6. Honors and Awards
TCA was awarded a 2nd prize in 2017 World Health Qigong Day Organisation awards.
Individual awards have been gained by instructor Judy M, awarded a Gold Medal for Yi Jin Jing and a Silver Medal for Ba Duan Jin at an International Health Qigong Competition held in Jiu Hua Shan in 2016.
7. Experience Sharing
Tai Chi Australia celebrated the first World Health Qigong Day (WHQD) on Aug. 13, 2017.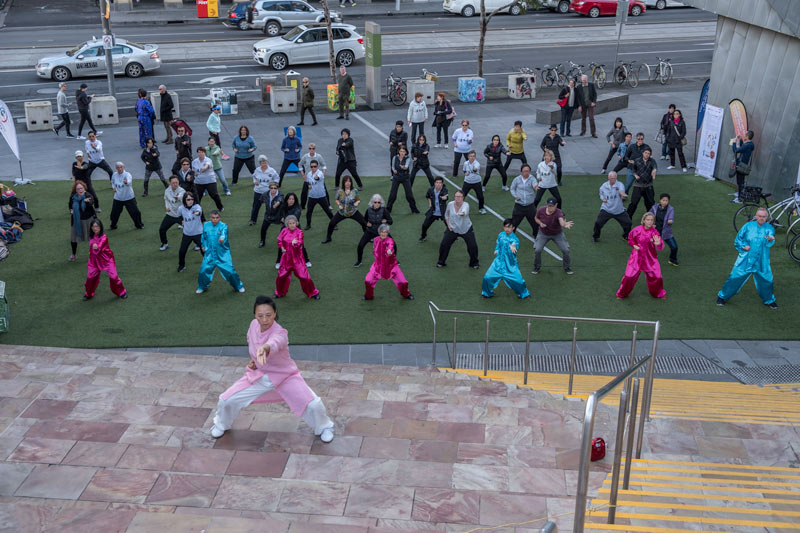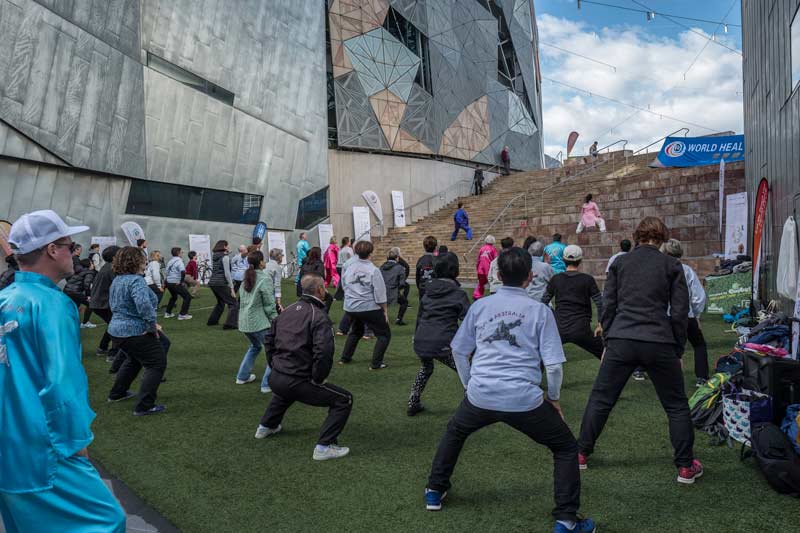 8. Logo