Invitation & Notice on Health Qigong Lecture & Works Solicitation
IHQF Member Organizations and relevant Health Qigong organizations:
In order to promote the international development of Health Qigong, play an active role of Health Qigong in the global fight against the Covid-19 pandemic and enhance the global influence of Health Qigong, International Health Qigong Federation (IHQF) and Chinese Health Qigong Association (CHQA) decide to hold 'Belt and Road, Heart to Heart' ― Health Qigong Lecture Hall activity from March to November, and 'Health Qigong and I' ― Solicitation and Display of Literary, Video & Photographic Works activity from March to June.
We hope all Member Organizations and relevant organizations take active actions to lead your relatives, friends and Health Qigong enthusiasts to participate in the activities. To exchange and learn from each other, and show the beautiful works on the platform of Global Health Qigong Time. Let's join hands to make Health Qigong benefit more people and make greater contribution to the global fight against pandemic!
IHQF CHQA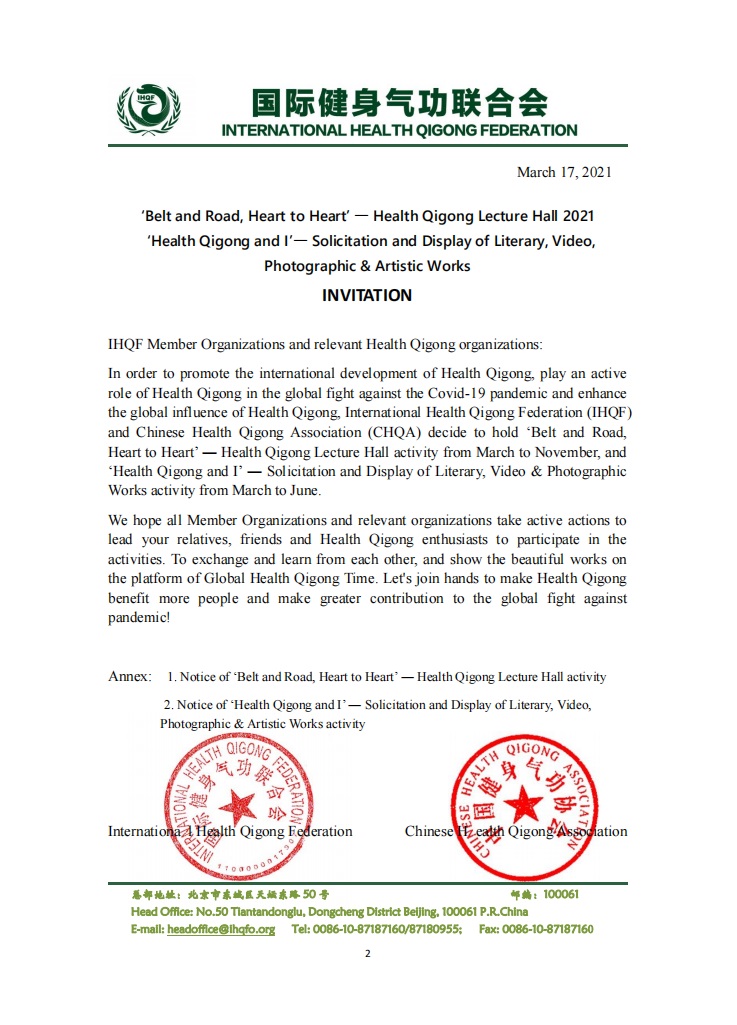 Annex Download:
1. Notice of 'Belt and Road, Heart to Heart' ― Health Qigong Lecture Hall activity
2. Notice of 'Health Qigong and I' ― Solicitation and Display of Literary, Video, Photographic & Artistic Works activity