Basic Information
Name of the Organization: Gabriel International
City and Country: Düsseldorf, Germany
Approved by: GeWA 1 Landeshauptstadt Düsseldorf
Date of Establishment: Jul. 1, 2013
Date of Joining IHQF: Feb. 2016
Leader: Gabriela Mai
Email Address: gm@gabriel-international.com
Phone Number: +4921141658481
Postal Address: Gabriel International-Fürstenwall 194 – 40215 Düsseldorf Germany
Business: Health Qigong, other
Students: 37 registered students,40 temporary Students
Introduction of the Member Organization
1. History
Gabriel International was registered in July 2013. The field of activity of the company includes: Health Qi Gong, Nutrition, Relaxation Techniques, Stress management.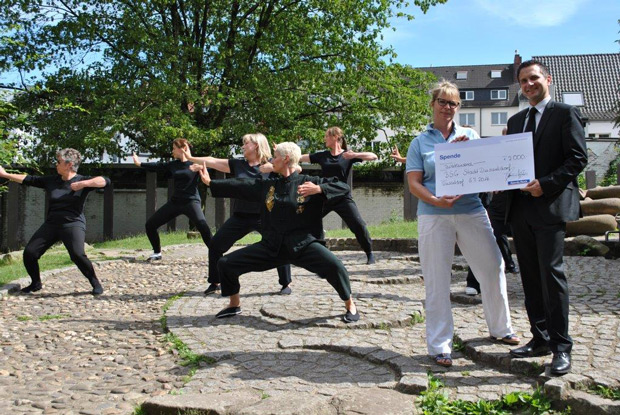 2. Leader of the Organization
Qi Gong: Gabriela Mai
2008 student of Jean - Claude Mai Yung Sen (Pause Qi Gong)
2010 Assistant of Jean - Claude Mai Yung Sen (Pause Qi Gong)
2011 Diploma Qi Gong Teacher
2011 Teaching Qi Gong in companies and public Organisations
2013 Training 2nd Health Qi Gong Seminar in Porto
2013 First Duan / Ba Duan Jin
2013 Training with Prof. Hu Xiaofei / Wu Qin Xi
2014 Training 1st national Training in France Rouen
2014 2nd Duan / Shi Er Duan Jin
2015 professional Instructor Training Daoyin Qi Gong at ASBL Life Care Center /
Belgium
2017 EU Training Project for Senior Instructors in Berlin
2017 3rd Duan / Tai Ji Yang Sheng Zhang
C.V.:
1984-1988 University L'EFAP / Master of Communication Paris / France
1999 IELTS, English Proficiency Sydney / Australia
2010 Awela Academy Düsseldorf / Germany
Dipl. Graduate degree for General Health, Nutritionist, Reduction of Distress and Stress Relaxation, Self Awareness and Self-Esteem , PMR )Progressive Muscle Relaxation ,Jacobson), Auto Suggestion Trainer
2011 Dehag Academy / Germany Dipl. Graduate degree in Sport
3. Members of the Organization
Assistant loqistics:
Jean-Rémi Mai Yung Sen
Stress management :
Marille Caspellherr
4.Daily Teaching and Learning Activities
Classes:
Monday 4 classes
Tuesday 2 classes
Wednesday 2 classes
Thursday 4 classes
Friday 1 class
Saturday 1 class
Engagement for Social Project
Wednesday 1 class
Thursday 1 class
Classes March 2018 organized with the DCC Center German China Center
Tuesday 2 classes with Mrs. Gu Jailing/ Jiangsu -Yangzhou national team
Professional Training for Instructors Daoyin Qi Gong at ASBL Life Care Center in Brussels.
5. Health Qigong-Related Events Organized or Participated in
2013 - 2nd Health Qi Gong Seminar for European Instructors - in Porto - Portugal
2014 - Training 1st national Training for instructors in Rouen - France
31.10 – 04.11.2016 - Health Qi Gong in Düsseldorf - 3 days Training and Symposium visit from Delegation of 5 persons incl. Mr. Chang Jiangping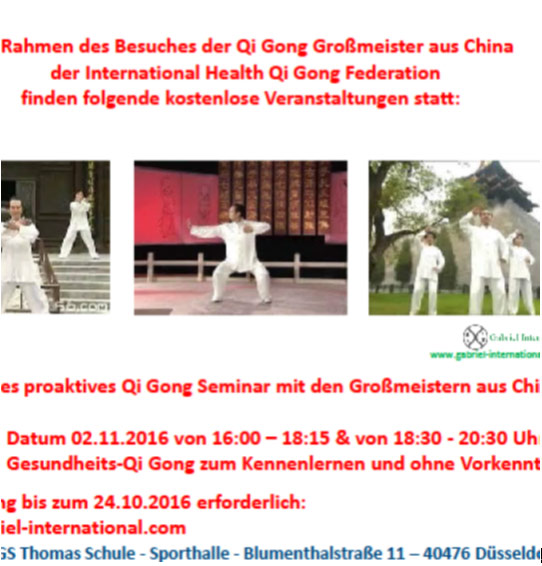 13.08.2017 - Organization of the World Qi Gong Day in the Park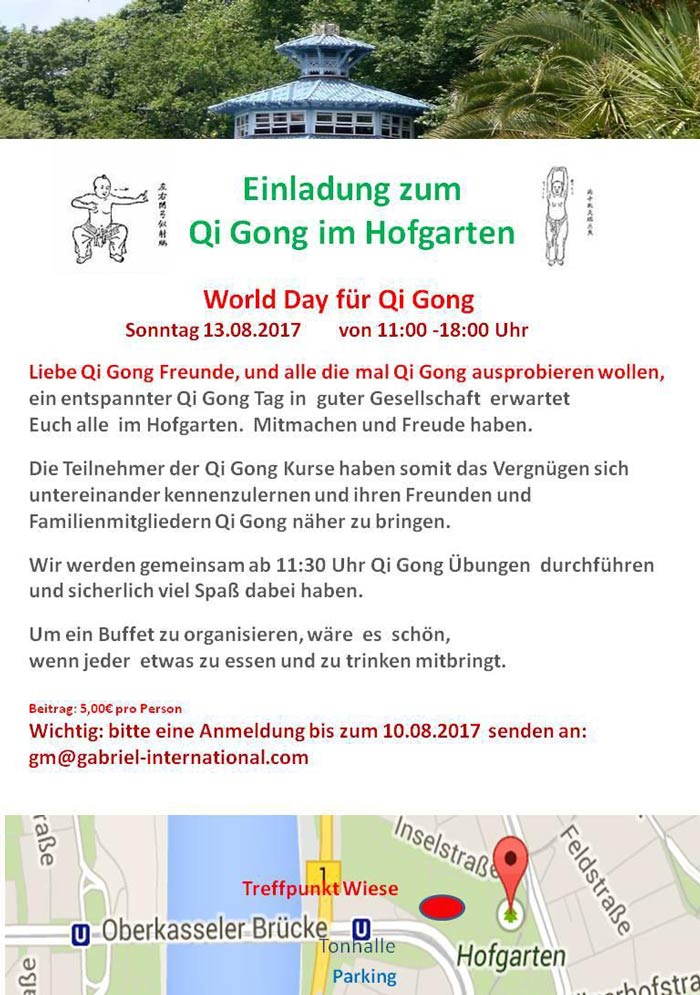 16.09.2017 - Organisation of the China Festival in Düsseldorf (see attached flyer)
With Exhibition tent – Seminars for beginners Qi Gong
Demonstration of Health Qi Gong
on stage with my students and the National Team of Jiangsu- Yangzhou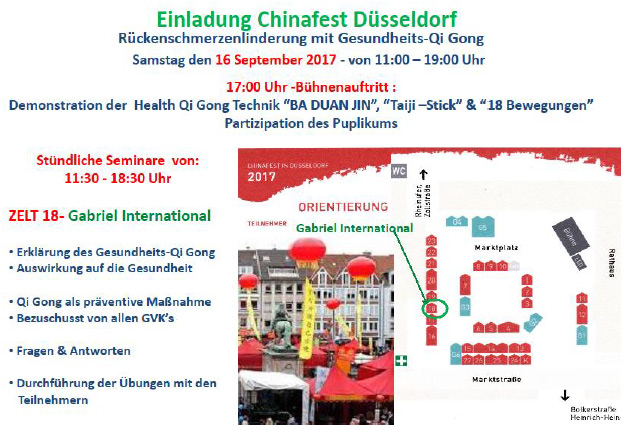 6. Logo