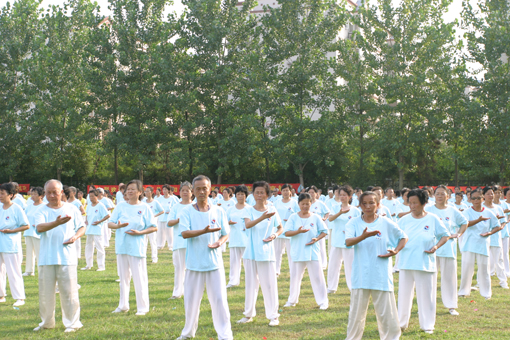 Inherit culture with excellent methods. Inhaling and exhaling breathing, Daoyin massaging, bionic pictograph…, these excellent bodybuilding methods shine in the history of Traditional Chinese health culture like scattered pearls. Like a beautiful silk ribbon, Health Qigong strings the essence of traditional culture and inherits the vein of national culture.
In a decade, Chinese Health Qigong Administration Center has launched 9 sets of popular exercise like Health Qigong • Yi Jin Jing, Wu Qin Xi, Ba Duan Jin and 4 sets of exercise for competition. These exercises inherit the quintessence of traditional health preserving methods and integrate scientific fitness ideas in empty-handed, mechanical, standing and sitting styles to win the favor of different groups of people. In the early morning sunshine, over 13,000 Health Qigong stations become bright scenery of national fitness; in competitions in colleges and universities, the vigorous posture of college students attracts numerous envious eyes. Health Qigong inherits the culture of Daoyin, health preservation, apparel, folk music and etiquette, and integrates outstanding Traditional Chinese culture into healthy life of common people with beautiful body language and good fitness effect.
Publicize culture through colorful activities. In September, 2011, Beijing was in golden autumn, when the 14th World Sports Conference for All was grandly held at National Convention Center. For laborers, autumn is a season of harvest; for Health Qigong workers, it is a season of glory. A series of display activities of Health Qigong in cities and villages across the country won the Mass Sports Development and Promotion Award given by the International Olympic Committee (IOC), and Rogge, President of IOC, presented the award for Chinese Health Qigong Administration Center in person.
Behind the honor is the happy smiling face of beneficiary mass, the approval of international sport organizations of Health Qigong, perception and appreciation of excellent Chinese tradition culture. Over the years, Chinese Health Qigong Administration Center has launched over 900 national series display activities and 12 national exchange competitions. Health Qigong has officially been included into National Sports Convention of China and World Games. The colorful activities are the bond between us and the mass, and a platform for propagating culture of Health Qigong.
Go global with unique charm. It is always said that music and sports have no borders, the more national the culture, the more exuberant its vitality. Health Qigong, a national traditional sport, has spread to 32 countries and Hong Kong, Macao, Taiwan with its unique cultural connotation. It has held more than 3000 performance, display, teaching, training and other activities at abroad with more than 130,000 receivers. Health Qigong writes a commendable chapter in propagating excellent Traditional Chinese culture and benefiting human health. The reason that foreigners like Health Qigong is because of her national cultural charm and implication. In their eyes, Health Qigong is no longer a common sport. She condenses China's health culture in thousands of years, transmits health and Chinese sentiment in every movement.
When learning the spirit of the Six Plenary Session of the 17th CPC Central Committee, I thought very hard about what I did. I asked myself, when the culture is developing rapidly and prospering, we should understand Health Qigong from what perspective, treat her with what attitude and develop her with what thinking. It involves responsibility, confidence and perseverance.
Responsibility is a kind of inherent spiritual force, is the strong longing for and relentless pursuit of beautiful things. Responsibility is full of enthusiasm and rational understanding. Only by loving, studying Health Qigong and constantly exploring her development rule can one undertake the glorious mission of promoting development of Health Qigong, inheriting excellent traditional culture and serving public health.
Confidence is a kind of easy life attitude. Only by being confident in one's cause can easily stand fast, have the courage to forge ahead and be full of innovative vigor. Confidence is not equal to blind arrogance. Traditional culture has both quintessence and dross. Eliminate the false and retain the true and integrate modern scientific idea into it to vitalize this traditional sport.
The purpose of assuming responsibility and building confidence is to constantly strive to become stronger. Self, is to highlight the characteristics of the sport itself; strength, is to make Health Qigong have great attraction and influence. Health Qigong is not an Olympic sport, but she has extensive mass foundation and profound cultural background. We are duty bound to dig the advantages of the sport itself and make Health Qigong stem from China yet belong to the world.
(By Ding Liling)