Fw:Chinese Health Qigong once again entered the United Nations
At the invitation of the United Nations Tai Chi Cultural Association, China's Health Qigong was welcomed by UN staff and diplomats after six years.
The exchange and teaching activities were held in the gym of the United Nations building.Under the guidance of Mr. Ma Jian, assistant dean of the school of martial arts at Hebei Normal University, and accompanied by the elegant Guqin of Mr. Chao Shengjie, a scholar of traditional Chinese Health Culture, participants learn to breathe, or learn to bend and extend to learn Chinese Health Qigong in a relaxed and pleasant atmosphere.
Nola, who traveled from New York City to attend the event, said she was "overwhelmed" by the magical and practical qigong. After a few "easy" moves, she immediately felt "energized and refreshed."Nora hopes to have the opportunity to study Chinese Health Qigong systematically in the future.
Mr. Cao Guozhong, President of the United Nations Tai Chi Cultural Association, said, "We have invited Health Qigong to the United Nations in the hope that it can fully display the charm of Chinese culture on the colorful international stage of civilization and culture, and bring tangible physical and mental health to the people of the world."
Mr. Chen Feng, director of the United Nations Tai Chi Cultural Association, said they have been hoping to choose an easy and effective method from a variety of health methods to help UN staff and diplomats keep fit and relieve stress.Chinese Health Qigong has received a warm welcome at the United Nations. He believed more staff and diplomats would join the training team in the future.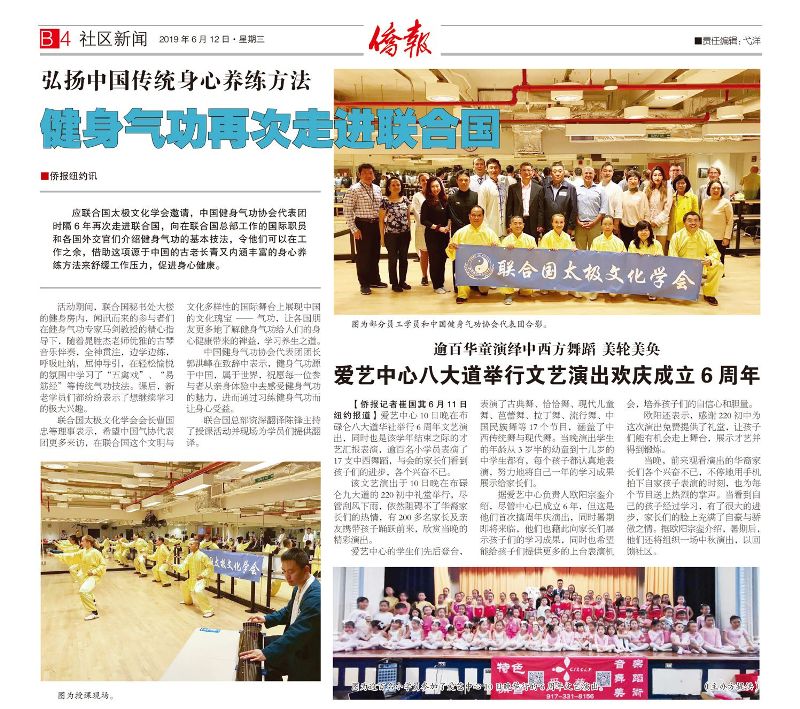 (Provided:

Xinhua news agency and overseas Chinese newspaper

)