With the guidance, assistance and substantial support from Chinese Embassy in Brazil, and Consulate-General in Rio de Janeiro and in São Paulo, Chinese Health Qigong Delegation paid a successful visit to Brazil from October 23 to November 5, 2013. The debut of Health Qigong in Brazil has been widely embraced by people from all walks of society.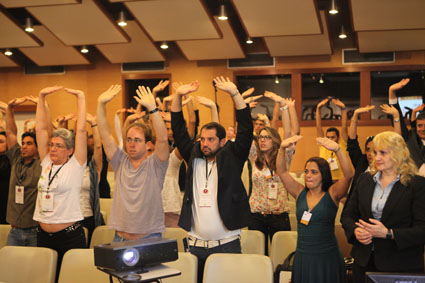 On October 24, the delegation attended the first Sino-Pakistan Acupuncture and Traditional Chinese Medicine Forum, and demonstrated and introduced Health Qigong. VIP participants and more than 100 medical professionals listened to and experienced the charm of Health Qigong. According to Wyler Hale, a British health official, Health Qigong completely fit into the concept of preventive treatment of disease of traditional Chinese medicine, and every one can practice it by himself or herself. He hoped that Health Qigong would be taught in Brasilia. On October 30, the delegation held an open class on Ba Duan Jin, a kind of Health Qigong, in the Sao Miguel Pta District Government Square of São Paulo. More than 200 local people attended the class with enthusiasm. Mr. Sandler, deputy mayor of São Paulo and leader of Sao Miguel Pta District spoke at the opening ceremony and warmly welcomed the health to be brought to the citizens in São Paulo by Health Qigong. Then, he also attended the practice with gusto and experienced the unique charm of Health Qigong.
  During the visit, nearly 200 Health Qigong backbone members from Rio de Janeiro, São Paulo, and the rest of Brazil gathered to learn Health Qigong, such as Yi Jin Jing, Da Wu, Mawangdui Daoyin Shu, and 12-Routine Exercises from experts in the Chinese delegation. They, mostly doctors and instructors, have a reasonably complete picture of Chinese culture and traditional Chinese medicine; therefore, they have an in-depth and thorough understanding of Health Qigong. Many of them followed the delegation during the visit and kept learning from the experts. Ms. Hagel, now 40 years old, has her own traditional Chinese medicine school with more than 80 students in Rio de Janeiro. She said, although it's the first time she practiced Health Qigong, she felt very good. The Chinese instructors were really good and patient. She quickly mastered the knack of it, which, she thought, would facilitate her teaching of traditional Chinese medicine and the rehabilitation of patients. All the three members of Victor's family attended the class. He intoned that he had benefited from it and he would recommend it to more students and patients.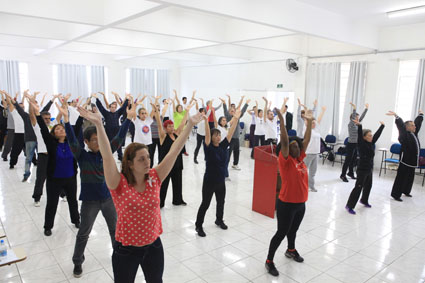 According to Mr. Casiano, vice president and secretary-general of Brazilian Health Qigong Association, they would promote Health Qigong in Alegre City, Rio Grande do Sul in southern Brazil and Bahia in northern Brazil. Many enthusiasts there are looking forward to the presence of Chinese experts. In Brazil, Health Qigong has a broad mass base and good cultural environment. There are nearly 50000 professional practitioners in the acupuncture and traditional Chinese medicine industry and acupuncture has been listed in the National Insurance Project. Thanks to its low cost and effectiveness, acupuncture and Chinese fitness methods are very popular among the general public, particularly those from the lower walks of society.
  During the visit, the delegation has been in extensive contacts with Brazilian Chinese Medicine Association and Rio de Janeiro Chinese Medicine Association, Brazilian Traditional Chinese Medicine College in São Paulo, Brazilian Jing Wu Athletic Association, Brazilian Acupuncture and Chinese Medicine Association, Brazilian Chinese Cultural Exchange Association and Brazilian Wushu Confederation. All of them have shown enthusiasm for Health Qigong and hoped to organize and promote teaching activities of Health Qigong. The Delegation leader, Mr. Lu Shiming, Vice President of Chinese Health Qigong Association, said, Health Qigong originated in China but it belonged to the world. They would use the successful visit as a chance to continue to work with Brazilian Health Qigong Association to further promote Health Qigong in Brazil with the help of people from all walks of society. They hoped that Health Qigong would contribute more to improving the physical and mental health of the public in Brazil, promoting the China-Pakistan sports and cultural exchanges, and enhancing the friendship between the two peoples. (Wang Jianjun)